« Back to Glossary Index
PostBack meaning
PostBack or server-to-server (S2S) data transfer is one of the ways of tracking conversions. PostBack is the transfer of data about performing some action from one platform to another (for example, from affiliate network to the tracker or ad network). PostBack makes the work with the affiliate network's information easier.
PostBack in affiliate marketing
PostBack is the most credible way of conversions' mainstreaming. It will make your campaign optimization easier, for example, transferring data from the affiliate network to the tracker or ad network.
How does S2S postback work?
It's simple: click ID is attributed to any user's click. But when the targeted action is performing, the system understands that a certain click ID is a conversion itself.
Information about conversion is transferred to the server of the affiliate network and then to the server of your tracker. You can set up conversions tracking from your affiliate network or tracker to the ad network's server.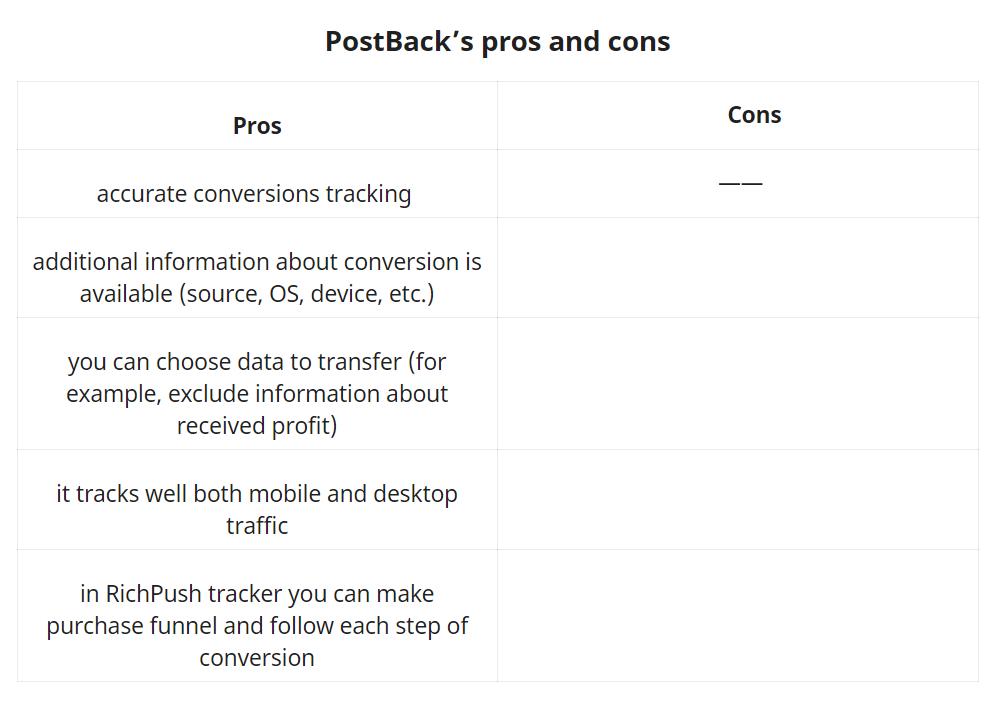 Which benefits give the postback integration?
Target CPA
Target CPA is a neat feature for beginners and advanced marketers. Don't want to make mistakes and lose money? Don't have enough time for optimization? Let the intelligent Target CPA feature do all the work for you.
You will get a fully automated traffic buying process, including blacklisting and smart Micro Bidding. Target CPA will do it all to get as many conversions as possible within your budget and target CPA.
Access to free auto-optimization features of an ad network
After setting up the postback, the Automated Rules tool becomes available to you. It allows creating white- and blacklists automatically after the specified parameters were set up. Moreover, it's not you who do it but the system which checks your results every 2 hours.
Set up custom bids in one campaign
Micro Bidding is another feature that allows you to adjust bids for different sources or parameters according to their performance. It also helps to save on campaigns. Just set additional bids for different campaign parameters if needed.
Get help from RichAds experts
If the support team sees the information about conversions, they can help you set up Automated rules or bids and recommend other improvements.
Launch profitable ad campaigns with RichAds!
What is RichAds?
🔝 Push and pop ads,
🔼 CPC starts from $ 0.003,
🔝 CPM from $0,3 in Tier 3, $0,5 in Tier 2, $1 in Tier 1,
⏫ large volumes of available traffic in more than 200 goes,
🔼 Best niches: VPN, antiviruses, Dating, Sweeps, Gambling, Betting.
---
Related articles:
---
Step-by-step guides on how to set up postback with RichAds:
Find more guides by searching for "Affiliate Tracking Tutorials".